It's time for the annual musings known as Shadows and Reflections. Since so many of our lives were lived in thematic overlap in 2020, we've asked our contributors and friends to focus on the small, strange and specific as they look back over the last 12 months. Today it's the turn of Ian Preece.
Writing about the small, the strange, the focused – the outside world refracted through something very specific – would normally be right up my street. As my mother said, after several telephone rows about the government handling of the ******ic, 'You weren't brought up political.' But this feels the hardest Shadows and Reflections brief ever. On the one hand never have I wanted to escape the utter bullshit in, and of, the media/the world/politics more so than this year – but on the other, never has Jean-Paul Sartre's maxim 'Hell is other people' inundated the consciousness of daily life like a filthy floodwater tide leaving its greasy mark halfway up the wallpaper in your front room than in 2020. (Sartre maybe meant, hell is some other people – he would have had his own collection of schemers and power-hungry egomaniacs interested only in— etc, etc, etc, to contend with.) Or in the words of Anthony Johnson and Skycru, on the superb Jackie Mittoo organ-flecked version of Marvin Gaye's 'What's Goin' On', 'I want to know what's goin' on in the world of today with all the yute and the woman and the mandem.' So here are a few slowly baked, less than profound, not-too-hard-won observations/thoughts/highlights/lowlights from 2020 (I know I'm preaching to the converted with no.4).
1. Get a game like Marbles in your life. My mum's dad died when I was still in nappies, so I have no actual memories, other than a childhood fascination with that sparkly green pearlescent gravel they started filling cemetery plots with in the late 1960s/early 70s, but my granddad was a coal train driver on the Nottingham to Annesley Wood line until it was brutally axed by Beeching. He had a shed full of tools and a large workbench in the backyard, fashioned beautifully functional kitchen cabinets for neighbours on the estate, and developed his own photos of hydrangeas, rose bushes and posed portraits of his family in there too. At some time in the late 1930s/early 1940s, as my mum's elder brothers and sister were growing up in the tiny red-brick council terrace, he covered a dining-room-table-sized board with baize, sculpted a kind of railway viaduct or engine shed of wooden arches numbered 1 to 12 at one end and marked dots on the baize at the other where you place your marbles. He also emerged from the shed with a hand-carved pool cue. One team 'bats', trying to pot as many 12s as possible to rack up a high score; the other team 'bowls', working their way from 1 to 11, each successful pot/marble through the numbered arch a wicket taken. (We're talking Sunday cricket, one-day tempo here; though it feels like it has the potential to be adapted for the five-day game.) I used to play it with my brother on afternoons after school while my nana made egg and chips, chips from the pan, before Grange Hill was on. Last Christmas I whupped everyone's ass on rediscovering my form of 1978. This Christmas Edie bowled me out for 103 then scored 108 for 3 in no time (I'd forgotten art students play pool all day). What makes me so happy is that we still play with the original marbles: painted, translucent, pearlescent, pitted, small, medium, clear, bubbled and smooth glass with green, white, orange and turquoise plastic leaves that have been trapped, suspended in there since something like 1968.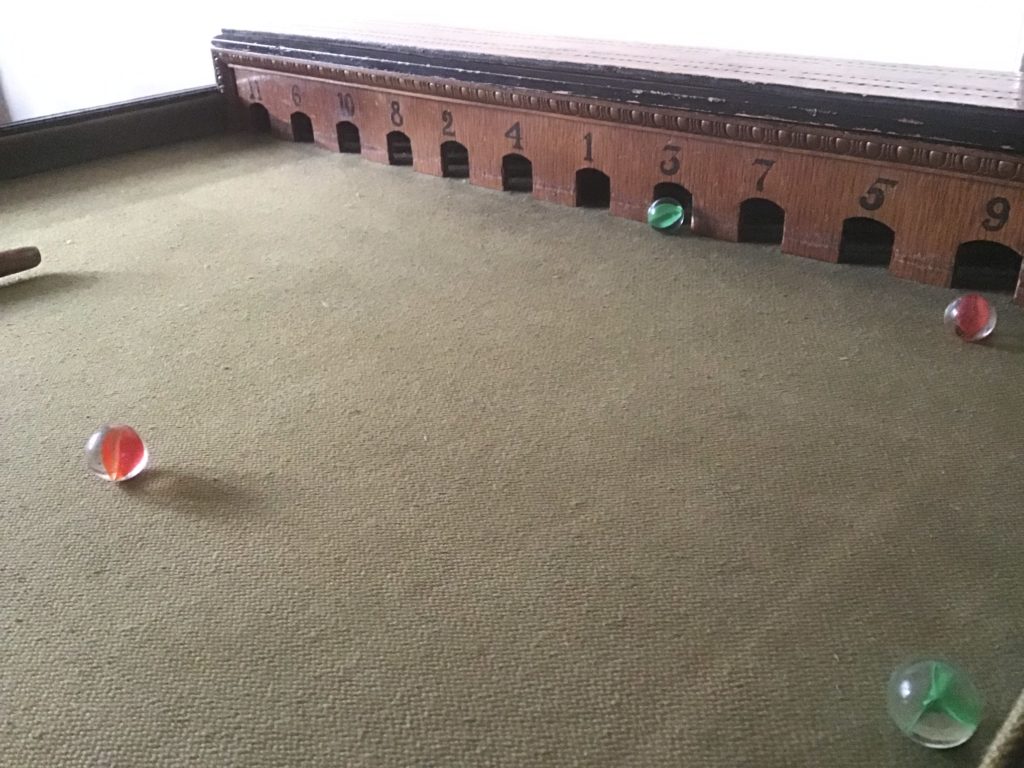 2. Set up the decks in the kitchen. Djing opportunities for 53-year-old men who love Moondog and Joshua Abrams, Josephine Foster and Blind Mamie Forehand are not so easy to come by these days. Thurston came back from college with barely a change of clothes but his box of reggae, dub and soul 45s. 1996 SoundLAB mixer and turntables retrieved from the loft, we're now 17 days into a marathon set. Horace Andy's 'Conscious Dreadlock/Conscious Dub' (Money Disc, 1974) and the Anthony Johnson/Jackie Mittoo/Skycru reworking of Marvin Gaye's 'What's Goin' On' are two of the greatest New Year's Eve tracks ever. Ditto Bree Daniels' 'Oh Me, Oh My' and the Upsetters' 'Africa Dub' (both Pressure Sounds 7-inches).
3. There's always books. Great books, while ostensibly focused on one thing, pan back to let all life in. Kate Briggs' This Little Art (Fitzcarraldo Editions) – which takes in translation, writing, the essence of Roland Barthes, the fear of fucking up, everyday life – and Philip Connors' Fire Season, Field Notes from a Wilderness Lookout (Pan) were two favourites this year. I'm sure I'm pretty much the last CBTR reader to be hip to Fire Season (Jeff mentioned it to me about 7 years ago now) – spartan cabin life battered by ridge-top winds and storms but lived out in a 360-degree glass-panelled viewing platform; with the spectacular vista unfurling before him, when not out hiking with his dog, Connors spends his days on the constant lookout for a plume of smoke from the Black Range mountains in the Gila National Forest in New Mexico while ruminating on the faint absurdity of city life below, refracted through the lens of an offseason barkeep. As a lifelong city dweller, I was taken by the notion, coming from someone so deeply tuned into the natural world, that forest fires are actually good for re-growth, a kind of spiritual cleansing.
4. Don't sit in your car in the supermarket car park with the engine running, stuffing yourself with factory-prepared sandwiches, pasties, salads and crisps. Don't concrete over your front garden so you have somewhere to park your vehicle. Don't buy four pairs of the same trainers cheap from Amazon. Then wonder why floodwater is seeping through your front door while the planet is burning to a crisp. Don't patronise NHS workers by 'clapping for carers' then vote/don't vote/abstain (so effectively voting) for a party more than happy to infantilise every last aspect of daily life while hollowing out essential services and making themselves and their friends extremely rich in the process. Join the f***** dots.

5. Late on a wintry afternoon I cycled up over the railway bridge by Leyton Mills. Looking west beyond the Olympic Park the sky was neon pink and turquoise, the vast spread of London, tower blocks with lights coming on, streams of headlights coming up the hill like in Heartworn Highways, clogging the road, the sun lowering/disappearing between huge globules of cloud. I can remember the sense of excitement about Friday nights in such a vast city. The Phoenix bar on Charing Cross Road or the Angel round the back by St Giles church? An old blokes' pub in Camden or a drum & bass night in Covent Garden? Staying over at my mate John's flat on the estate near the Irish Centre, or the last tube back north to Finsbury Park? Those days are gone, and I'm not sure what I feel about London now. The other night I was waiting for my better half by Blackhorse Road tube station. There's a vast monolithic tower being constructed on Forest Road (or at least in the dark that is what it seems) – pods for city workers suspended high in the sky. When you come down those 25 floors in the lift for your pint of milk and ready meal in Tesco Extra, or the nearby late-night Co-op, is that living in a community? I found myself enjoying my sister-in-law's Christmas cake this year – huge wedges of dried fruit muskiness and heavy duty icing with silver balls and marzipan. I think I must be getting old.
6. Turn the radio on. When I was a teenager I could get very focused on radio. I was fascinated by the nuances between the Radio Luxembourg top 40 and the BBC charts. If push comes to shove I could probably recite the schedule of Radio Trent 301, circa 1979, today. In later years, like everyone, I've now got a box in the shed full of tapes of fragments of John Peel shows. But this last year it's been great to structure the week/month around the likes of Ben Thompson's London Ear show on Resonance FM; drop into old favourites like The Wire's Adventures in Sound and Music on the same channel; and new discoveries like Siné Buyuka's Injazero show on Resonance Extra; Glen Johnson's Arcane Delights on Camp Radio; my mate Andrew's Sunday lunchtime soul/blues/reggae/northern soul show on Mixlr.com/reminisce2012; Radio Thamesmead; and Gideon Coe on 6Music, where there's something about the needle cutting through the grooves of record after record, weekday night after weekday night; 'label of love' at pretty much the same time every Wednesday; an old Tindersticks session from 1994; Jon Gibson or Arthur Russell, Joe Henderson or Johnny Clarke travelling over the night-time airwaves – and Coe's Peel-like understatement – that reaffirms your hope that it'll be ok.
7. While some folk will, of course, have suffered horrific loss, 2020 is not a 'lost year'. Only broadsheet features editors from deep inside their own specific bubble would say that.
*
Ian Preece's Listening to the Wind: Encounters with 21st Century Independent Record Labels was published in 2020, and is available here.