Tove Jansson and Tuulikki Pietilä's 'Notes from an Island', a chronicle of the time spent by the couple at their beloved cabin on the Finnish island of Klovharun, has just been published in English for the very first time by Sort Of Books. Dan Richards reviews.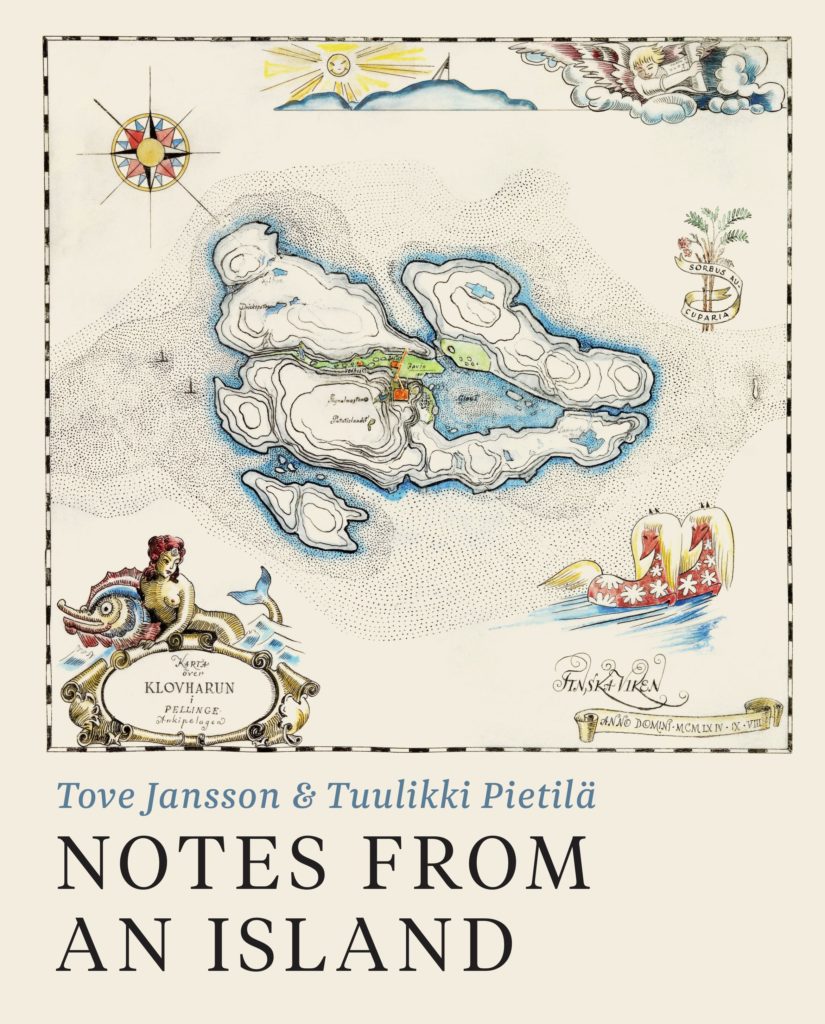 As secret, inaccessible islands go, the igneous nubs of Bredskär and Klovharun are rockstars. Hymned home of Tove Jansson her life partner, the artist Tuulikki Pietilä, AKA 'Tooti', subject of beloved books and illustrations, focus of Moomin pilgrimage, sites of preservation. The sense that these twin Finn atolls have been thoroughly rinsed is understandable. Yet, as so often in Tove Jansson's work, unexpected tidings have arrived to challenge the sleepy status quo — in this case the publication of Notes from an Island, an account of how, in their late-forties, Tove and Tooti, aided by maverick fisherman, Brunström, raced to build a cabin on Klovharun before snows, storms, and fishing associations could scupper their plans.
Issued in English for the first time, Notes stands as both a memoir of 26 summers spent out in the steely blue Baltic Sea and homage to an outpost the two women loved so intensely and relinquished 'only when pressed by age'. The beautiful hardback is also a unique collaboration between artists. Tove's spare, precise prose here framed by subtle washes and aquatints created by Tooti. Together they form a work of meditative beauty.
As Tove writes early on: We dreamed about what our new cabin would look like. The room would have four windows, one in each wall. Towards the south-east we'd need to see the big storms that rage right across the island, on the east we'd see the moon's reflection in the lagoon, and on the west side a rock face with moss and polypody ferns. To the north, we'll keep watch for approaching boats so we'll have time to get ready…
By which she really means 'turn the lights off and hide' because the real prize and luxury Klovharun afforded was time and space to draw, paint and write, energised by solitude and shifting seascapes.
© Alf Lidman 1961
Tove's island passion started in girlhood. She writes of a run-in with the local fishing association who controlled access to the crescent of uninhabited skerries west of Glosholm. A childhood dream of becoming a renegade lighthouse keeper is nixed when she's told she'll upset the salmon.
Her family settled on renting Bredskär of Summer Book fame but as the years pass and Moomin madness grows, peace is short-lived — folk seek her out.
'Gradually, the island filled with people. Tooti and I began to think about moving further out. We made a half-hearted try for Kummelskãr, but this time they said we'd distress the cod.'
However, all's not lost for, beyond Kummelskãr there's Musblötan, Käringskreven and Bisaball, somewhat inaccessible skerries where only fishermen and hunters ever go ashore, 'and the last one in the row was Klovharun, in other words, a skerry — a haru — cloven in two. That's where we wanted to build.'
And now the book explodes into life with the appearance of Brunström. Everyone needs a Brunström. He instantly reminded me of an indomitable Welshman named Pip who it's been my pleasure and befuddlement to know for years, and the writer Jon Grimwood; laconic expedient direct dextrous. You'll have your own equivalent. Here we go.
Imagine the scene, Tove and Tooti are camping on Klovharun's exposed whaleback, when their ears prick up: Late one night we heard an engine being turned off down on the shore, and someone with a flashlight came slowly up the hill. He introduced himself. Brunström from Kråkö. Brunström was out salmon fishing and had been planning to sleep the night in his boat when he saw lights on the island. We made tea on the primus stove. Brunström is quite small. He has a taut, weather-bitten face and blue eyes, his movements are swift but measured, and he never uses adjectives in his everyday talk. His boat has no name. We trusted him, immediately.
As you would.
Brunström has heard about the 'yes or no' list they've posted up on the local post office in hope of gaining permission to build on the island. 'It will never get through', he tells them… 'The only thing you can do is start building immediately.' 
He knows about these things, he tells them. He's built cabins in next to no time here and there, just in order to annoy people in the neighbourhood, 'folk from Pernå and Pellinge.' Get blasting with dynamite, he counsels: Brunström says that blasting and basements don't count as proper building, the house has to have a frame and the frame won't last the winter without a roof. So there is not much time. 'Before the snow,' he says.
So, obviously, they get blasting, and the story spools out from there, equal parts manic Grand Designs supercut and focused, spartan fine art study. The pen and ink works are a beautiful counterpoint to Tove's often hilarious remembrance of the cabin's creation, as well as Brunström's gloriously brusque, gnomically poetic diary entries —
 
5 MAY
Chimney slab formed, joists sawed, sand in place, and some odds and ends. Calm every day, big ice floes, the girls primed the frames. The sea is resting or asleep.
© Tuulikki Pietilä
As escapism goes, it's joyous. An understated portrait of a love affair. A study in Baltic biophilia.
Klovharun, a skerry — a haru whose name stems from the verb 'to cleave', a verb which means both to split and join together, continues to live up to its billing. Immeasurably more than the sum of its parts, Notes from an Island is a book about being ardently alive. Dynamite.
*
'Notes From an Island is out now and available here (£12.99).