As she walks Wardie Bay, 5 minutes from her home in Edinburgh, Tamsin Grainger attempts to name the place where 'here' bleeds into 'there'.
'"We lack – we need – a term for those places where one experiences a 'transition' from a known landscape … into 'another world': somewhere we feel and think significantly differently." that exists "even in familiar landscapes: … Such moments are rites of passage that reconfigure local geographics, leaving known places outlandish or quickened"' — Robert Macfarlane
Can I help you find a term for those places? Shall we go somewhere where that happens and feel what it's like, enquire into the difference between not-beach and beach, and see if we can come up with one?
My usual way onto Wardie Bay is up the wee slope and though the stoneledges. I leave the busy road that's been there for nearly 200 years, and has known me for 12, and at the top I get a salty blast to the nose which dismisses the fumes. I spy a man, a long way off on the sand. He has a big rucksack and he stoops, probably looking at his phone. He's almost a silhouette against the-place-where-the-tide-is-out. I see and inhale where I am going.
I begin the transition carefully. I turn my shoes sideways, peering down to avoid slipping. Not looking at the beach or the man, I only see my feet, one by one. I fit the long sides of my trainers into the angles where the earthed slope meets the uneven stone strips.
For a second I still. Half way. I feel the presence of the sea on my shoulders, the sky touching my hat and the wind on my ungloved hands which are stretched out at the sides of me for better balance. Something is already happening.
I run the last bit at the bottom which means that my heartbeat matches the pleasure I feel at being there. I am assailed by the wave-sound, the sea-odour and, finally, with the soles of my feet as I step from the large-rasping-pebbles onto the little-grainy-sand – I sink slightly, tilt, halt.
Now it all embraces me in one big hug, the noise, scent and feel of the beach's surface that I like. I look out to sea and my lungs take a great deep, heaving breath.
Quite soon I lie facedown to photograph the smell of crab in the seaweed. I screw up the skin at the nape of my neck where the cold gets in, to try and stop it doing that. The bladder wrack under my elbows as I balance the camera, is dry and brittle. I am in another world and I try to capture all the wonder but I know from experience that can be tricky.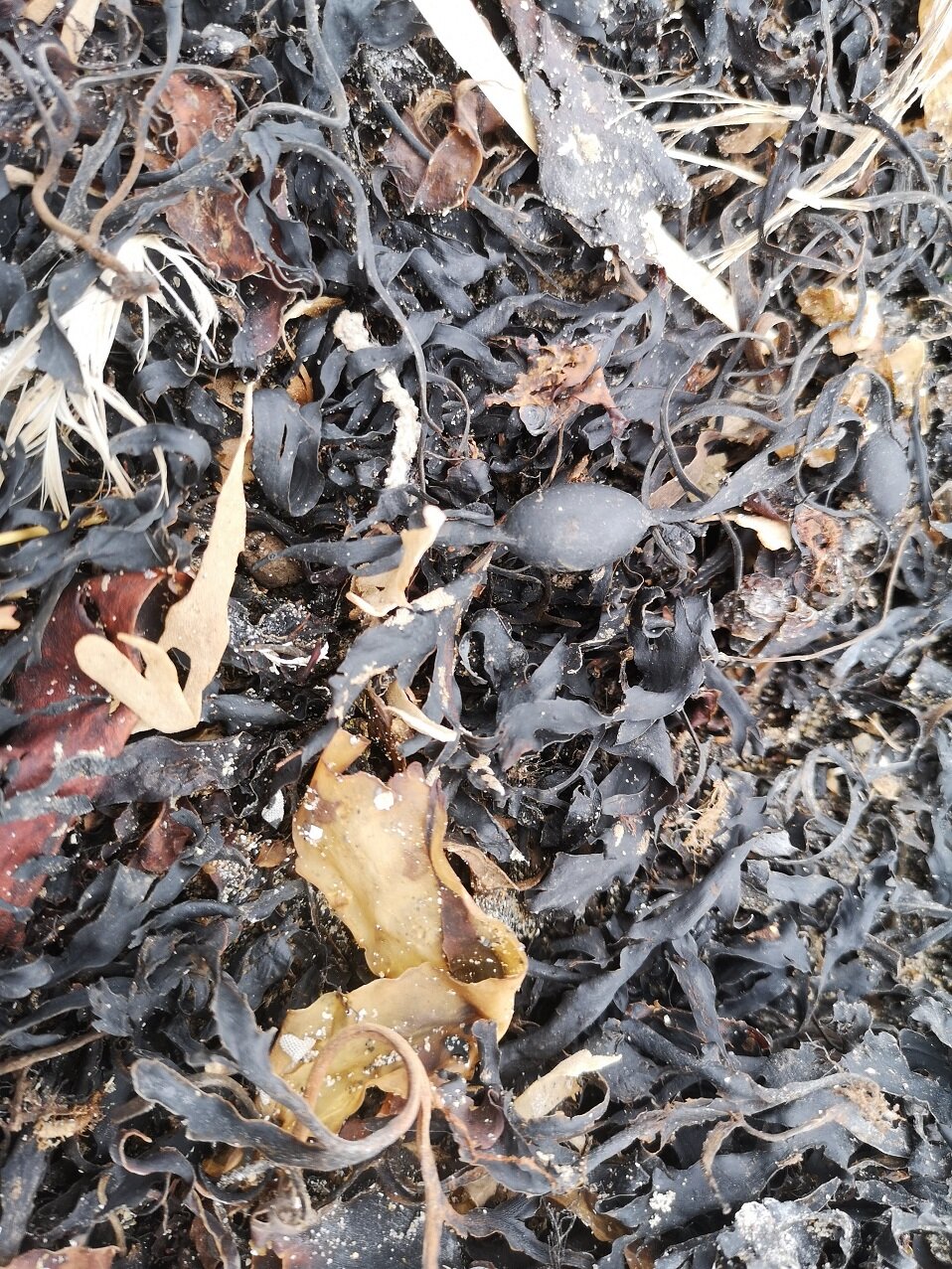 Yes, the sand. When I stand again it reminds me of velvet. Through my trainers and two pairs of socks it's delicious. I swivel and furrow and it's like when you sink your hands into the strands of a ball of merino wool and squeeze the softness.
I am on an expedition to find something out, so I rewind – I stare at the horizon and in my mind I start again from home. When we go somewhere we bring our anticipation of that place with us, the idea of what it will be like. I brought the way the beach was before – all the befores – layers of previous times when I had visited – with me today. And in my body when I got to the top of the steps, were the traces of everything else I had lived through up until that moment. And not only that. The beach, itself, had an imprint on it, of all the people (including me), and activities and weathers that had happened there, all accumulated in that second when I entered. I suspect that this previousness influences the way that we feel and think when an ordinary place becomes 'quickened'.
I lie down on the sloping, freezing rock, blue-sky with white-cloud above. I shut my eyes and smell the fish. Under my closed lids I can see the shells and stones I had been looking at before.
Tobacco…drifts…merges…with perfume.
What IS that place called, not where-I-was, and not where-I-am-now ? We know about journey, about being in transition, skimming or flying across lands and high skies to get somewhere. What do we call that place we just missed, the one we whipped through unawares? My tummy flurries when I'm approaching, the ground underneath me is altered when I arrive, but in the blink of an eye I am here, not there.
Fingers fold over cold thumbs and how smooth my skin is. I nearly sleep but the chill interferes. I rest still, not wanting to get up but knowing I'm going to.
The name of the place where I make the 'transition' might depend on which direction I take to get here and how I arrived.
If I chose the flat way from the street, the stonewalls very tall at the sides of me and feeling very small going between them, I would be coming upslope. At the corner I would be on a level with everyone and their dogs, able to see diagonally across to the rocks. There, hovering, no-one would notice me. Then I would run off the cobble, do a hop, skip and turn cartwheel on the sand, and land in the middle of the ring with a flourish.
Propping myself up on my elbows to look, I think. It would not be the same if I approached from the air, if I was a gull flying down, folding my wings back and stretching my thin legs out, landing on both my webbed feet at the same time. Landing lightly, making hardly a mark, the wind at my back, I would run along and get on with my search until someone disturbed me. I can't know if some places are more special for birds, but I do see when there are suddenly hundreds not three – something is exceptional or there wouldn't be so many at one time, they wouldn't be so excited.
If I were a wave from the north, I would turn over calmly, spreading, rolling, on to the strand. I would canoodle and stroke and she would offer up her treasures to me willingly. Or I might come faster, rising and rising then crashing. I would buffet and pummel and she would be covered with my offerings, and our meeting would be rousing.
Yes, I am sure that the direction we take and the way we enter, influences the magic when we get there. I launch up at last and stride towards the breakwater.
There are lots of stories about transitions into other worlds that might give us ideas for this place name we are seeking. They involve complex feelings which may help us focus: there is Mary's secret garden (The Secret Garden by Frances Hodgson Burnett), found through a door under some hanging plants; Lucy's Narnia (The Lion, The Witch and The Wardrobe by C.S.Lewis) – she went through two rows of coats with her arms stretched out in front of her, so as not to bump her face into the back of the wardrobe; and Alice's Wonderland (Alice's Adventures in Wonderland by Lewis Carroll) which was of course accessed via a large rabbit-hole under the hedge.
Mary, '… took another long breath, because she could not help it, and she held back the swinging curtain of ivy and pushed back the door which opened slowly—slowly. Then she slipped through it, and shut it behind her, and stood with her back against it, looking about her and breathing quite fast with excitement, and wonder, and delight.'
Lucy, '… felt a little frightened, but she felt very inquisitive and excited as well.' When she felt snow under her feet and on her face, that was when she realised she was somewhere else.
Alice has a long, slow-motion fall down 'what seemed to be a very deep well', meaning that we readers get to see, think and feel her transition. She was 'not a bit hurt'. Indeed, it seemed to heighten her 'outlandish' response – things got much more curious as a result. Later, she got tearful when she couldn't get through the too-small door to the garden. Her feelings on the threshold, and during the shift from one place to another, were different depending on whether it was a matter of choice or if she was catapulted there.
It seems that we might hold or expel our breath, run or move slowly across the divide, feel very inquisitive, excited or upset as we go. Time may pass quickly, so that we gloss over the feelings we have there, or slow right down, giving us a hyper-real sense of it, even space to ruminate.
The birds wheel and cry, a dog races past me and splashes after the ball. I have reached the other side and have to turn back.
When we are at the portal we are half one thing, half the other; leaving and approaching at the same time. We are momentarily inserted, midway. We are about to ……… .
So, it's decision time. What will we call it? I am back home now, balancing on the edge of the bed-base in the attic room so I can reach the sill and look over it at the beach below. I can see the place where not -here bleeds into there, and I have vertigo with the strain of it all.
'Crossing' or 'passing over' has too much redolence of death, though there is always a sort of loss associated with leaving, and, like a pilgrimage, it is really the journey that is important, not what you call it. No, I have a suggestion. The name of the place I went through, where something changed so that my familiar beach became something other, is the in-between. What do you think?
*
This piece was originally published on Tamsin's blog, which you can follow here.
Tamsin Grainger is a writer, bodyworker and walking artist living in Edinburgh. She also holds online events, including Death Cafes and Guided Bodywalking. Visit her website here. Her Walking Without a Donkey project, chronicling her international long-distance walks, can be found here.